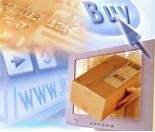 One word - trust. While it is true that you can compete by choosing a specialization - as outlined in the Zen Cart blog post
"Will My Business Work?"
, there is a much better approach. Web masters need to begin understanding the importance of creating value. To keep your customers interested, you need to do more than just advertise your products. You need to create a web presence with vast amounts of good information (in the form of content and other media) to keep your visitors coming back and convince them that they have a problem that you can solve. Web masters tend to spend too much time on SEO advertising; but once the traffic comes, they're not interested in advertisements they've seen a thousand times before.
Unless you have a multi-million dollar budget, forget about selling wholesale electronics as a whole - too many people have beat you to the punch. To successfully sell your products, you need to choose a niche market and create value behind that market. It's not enough to "focus on a high end product category, such as home theatre systems," as suggested by the Zen Cart Blog. Instead, you need to focus on a specific audience and develop your niche to address their needs.
So, instead of trying to sell home theatre systems, you need to market 3D home theatre systems to action movie buffs - with plenty of valuable content (like reviews, testimonials, tutorials, videos, etc.) to keep such an audience interested. You'll spend less money on your ecommerce efforts and secure a larger ROI. After all, your customers won't find the minimum wage lackey at Wal-mart that can talk about the top 10 action movies for a 3D home theatre system... but y
ou can
...